VIDALIA COMPREHENSIVE HIGH SCHOOL
WELCOMES YOU TO THE
'INDIAN PRIDE'
WEB PAGE


MITCH HARRINGTON, PRINCIPAL
DENNIS WATKINS, ASST. PRINCIPAL
DR. STEVE WEEKS, VOCATIONAL DIRECTOR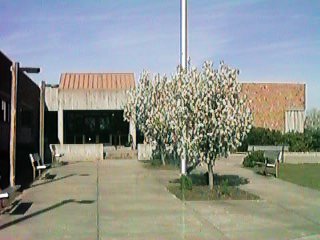 SCHOOL INFORMATION:
1001 NORTH STREET WEST
VIDALIA, GA 30474
PHONE- 912-537-7931
FAX-912-538-9696
NUMBER OF STUDENTS: 750
GRADES 9-12
FACULTY: 56 CERTIFIED, 32 OF WHOM HAVE ADVANCED DEGREES
---
60% OF GRADUATING STUDENTS ATTEND POSTSECONDARY INSTITUTIONS AVERAGE SAT SCORE FOR COLLEGE PREPARATORY CURRICULUM STUDENTS-1064 STANDARDIZED TEST SCORES AT OR ABOVE STATE AVERAGE 1989 GEORGIA SCHOOL OF EXCELLENCE SPECIAL PROGRAMS PARTICIPATION INCLUDE GOVERNOR'S HONORS, STAR, GEORGIA SCHOLAR, POSTSECONDARY OPTIONS (PSO).
VIDALIA COMPREHENSIVE HIGH SCHOOL OFFERS A WIDE RANGE OF ADVANCED ACADEMIC PROGRAMS AND EXTENSIVE OPPORTUNITIES THROUGH VOCATIONAL EDUCATION. THREE OF THE VOCATIONAL PROGRAMS ARE INDUSTRY-CERTIFIED: BUSINESS ED., AUTOMOTIVE TECHNOLOGY, AND CONSTRUCTION.
VIDALIA COMPREHENSIVE HIGH SCHOOL HAS THE GEORGIA STATEWIDE ACADEMIC MEDICAL SYSTEMS NETWORK (GSAMS) WHICH ALLOWS QUALIFIED STUDENTS TO RECEIVE UP TO 45 HOURS OF COLLEGE CREDIT WHILE REMAINING ON THE VCHS CAMPUS.
EXTRACURRICULAR ACTIVITIES INCLUDE THE FOLLOWING SPORTS: FOOTBALL, BASEBALL, BASKETBALL, GOLF, TENNIS, CROSS COUNTRY, TRACK, SOCCER, WRESTLING, SOFTBALL, CHEERLEADING, AND LITERARY. THE FOLLOWING CLUBS OFFER ADDITIONAL EXTRACURRICULAR ACTIVITIES: ANCHOR, BETA, Y-CLUB, FCA, VICA, VOCA, DECA, SCIENCE CLUB, MATH CLUB, LEO CLUB, KEY CLUB, NATIONAL HONOR SOCIETY, MODEL UN, QUIZ BOWL, INDUSTRIAL ARTS CLUB, STUDENT COUNCIL, FHA, FBLA, ART CLUB, DRAMA CLUB, HOBACHEE, AND PEER COUNSELORS.
Return to home page