FACEBOOK: City of Vidalia, Georgia Authorized Page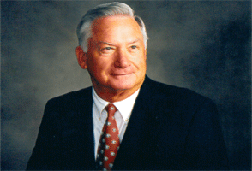 Mayor Ronnie A. Dixon
I have lived in Vidalia for over 50 years and love the community that has elected me as its Mayor. I have deep roots in the City government. In fact, my Father was the Mayor of Vidalia from 1966 to 1973. I served on the Vidalia City Council for 16 years starting in 1977. I began my first term as Mayor January 5, 1994, making me the 29th Mayor of Vidalia. I am currently in my fourth term.
Vidalia has grown tremendously in the last ten years economically, agriculturally, and industrially. We have strengthened our workforces by encouraging commercial growth in our community. We currently have a Community Center that offers a home for the Senior Citizens and other civic groups and community events.
As most of you know, our city is known as the "Sweet Onion City". Our community has prospered greatly because of our ability to grow the sweetest onions in the World! Each spring, we celebrate the arrival of our onions with the Vidalia Onion Festival. For festival information go to www.vidaliaonionfestival.com
While you are here we would also like to invite you to visit our Downtown area where you'll find several interesting retail shops. We are part of the Georgia Main Street City Association. This program allows our City to recruit new retail businesses to our historic downtown. In addition, we keep the local merchants involved to help maintain the appearance and economic growth of this historic district.
The current period of growth and development has brought a new quality of life to our Community that we would love for you to see. We are a friendly city and encourage you to visit during our Onion Festival Weekend where you'll have an abundance of family oriented events to attend. Thank you again for coming to our website and hope to see you soon.


Ronnie A. Dixon
Mayor
COMMUNITY INFORMATION
RECYCLE PICK-UP SCHEDULE
For questions regarding pick-up
Or cart replacement call
Republic Services 912.538.1714
ANIMAL CONTROL INFORMATION
Animal Control Office 912.537.8866
Check out our PET NEWS on the Animal
Control page by clicking her
SURPLUS FOR SALE
Be sure to check out surplus items for sale
In our services section
ACCIDENT REPORTS
You can now purchase accident reports online.
Visit the "Police Services" tab on our website
WEATHER ALERT/CITY INFORMATION ALERTS
Sign up for free City alerts and noticesat
www.nixle.com This service works on cell phones
City of Vidalia 114 Jackson Street P.O. Box 280 Vidalia, GA 30475 912.537.7661
---